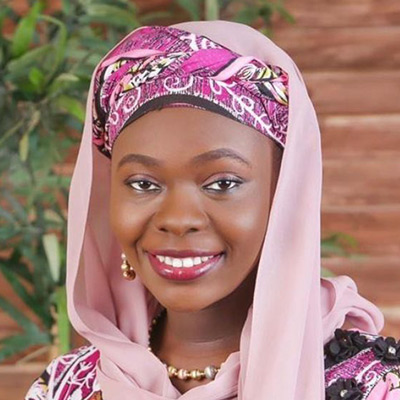 Nafisa Atiku-Adejuwon
EPLFAdmin
Program Officer (Gender Justice) Shehu Musa Yar'Adua Foundation & President, EPLF Alumni Association
Nafisa Atiku-Adejuwon is a Lawyer, Walter Carrington Fellow, former equity and inclusion Lead at the Abuja Global Shaper Hub, Alumnus of the Young Professionals Bootcamp (YPB), TED X Speaker, WIMBIZ Associate, Royal African Awardee and Founder of the Girls Just Want to Run Initiative.
As part of a team at the Walter Carrington fellowship (an initiative by the US  Consulate Lagos) she implemented a project teaching members in a rural community on how to turn trash to cash. This was done by creating furniture out of recycled tyres and producing environmentally friendly hair care products to economically empower women.
She is the author of 'Girls Just Want to Run', a book written to inspire young women to be involved in politics and leadership. This book has resulted in the creation of a community whose initiatives have reached hundreds of young women nationwide; and of which she serves as Founder.
She is an avid commentator and consultant on social, environmental, diversity, governance and development issues and her articles have been published multiple times on Bella Naija, YMonitor and the Women Leader Magazine. Nafisa sits on the Board of Women in Leadership Advancement (WILAN), a dynamic NGO dedicated to enhancing women's participation in politics, leadership and governance.
She serves on the Political Party Advisory Group under the Supporting Advancement of Gender Equality Program (SAGE), an initiative supported by the National Democratic Institute(NDI).
As a highly sought-after change maker, she has been featured on BBC, Rave TV, Plus Tv (The Advocate), Plus Politics Special, Channels TV (Rubbing Minds), BOSS FM (Abuja), WEFM, ClassicFM973 (The Book Review Show), Ali Baba Seriously, Punch Newspapers amongst others.