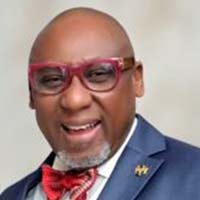 Yomi Badejo-Okunsanya
EPLFAdmin
President, African Public Relations Association (APRA)
Yomi, or YBO as he is popularly called is a renowned veteran in the Marketing Communications industry with over 30 years to his credit. He started his career in 1988 and he later founded CMC Connect Limited in 1992.
He is widely known to be one of the premier public relations practitioners in Nigeria and Africa with experience in the areas of Government Relations & Legislative Affairs, Perception Management, Marketing, Advertising, Public Relations and Crisis Communications where he has consulted for many multinationals and governments home and abroad.
YBO is a Fellow of the Nigerian Institute of Public Relations (NIPR) where he was past Chairman of the Lagos State Chapter. He also sits on the boards of several blue-chip companies in Nigeria.
As part of his continued efforts at mainstreaming Africa into global public relations practice, YBO has served as a Board Member of the International Public Relations Association (IPRA). His love for Africa is evident in his mien and selfless service to the African Public Relations Association (APRA) where he served as a two-term Secretary-General and is the current President. He was recently appointed as West Africa Chair for the Public Relations and Communications Association (PRCA).
He has bagged several awards in his profession including the prestigious PR Golden Eagle Award as the Most Outstanding Public Relations Person of the Year 2010, the first recipient of the Bob Ogbuagu Leadership Award in 2017 for positively impacting the Nigerian PR profession and inspiring younger practitioners, amongst others. His most recent awards are the Brandcom Awards Hall of Famer of the Year 2021 and his induction into the ICCO PR Hall of Fame 2021.
YBO is admired by many for his personality characterized by cheerfulness, love of nature and willingness to serve.