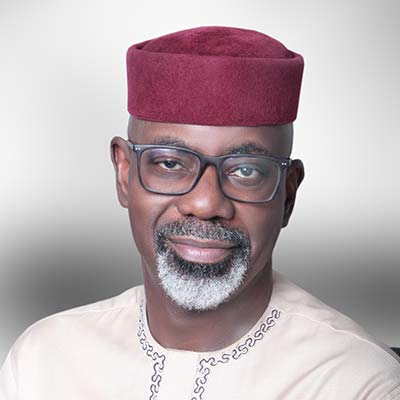 Senator Liyel Imoke
EPLFAdmin
Founder/Chairman The Bridge Leadership Foundation
Sen. Liyel Imoke CON was the former governor of Cross River state (from 2007 to 2015) and Founder/Chairman of The Bridge Leadership Foundation – a non-profit leadership and capacity development Organization. Born on July 10, 1961, at the University College Hospital, Ibadan, Sen. Imoke is a Lawyer, Statesman, Politician, and Administrator par excellence. He is married to Obioma Liyel – Imoke; a lawyer, entrepreneur and acclaimed child and women's rights advocate; the marriage is blessed with beautiful children.
He is the son of the late Dr Samuel Imoke – a frontline nationalist and at various times Minister for finance, labour and education (between 1953 and 1966) and Leader of Parliament in the defunct Eastern region of Nigeria, and the late Mrs Comfort Imoke – a nurse/midwife practitioner and pioneer community/public health expert.
Sen. Imoke's Primary Education was obtained from Santa Maria Primary School, Enugu; Ireti Primary School, Lagos, and Government Primary School, Itigidi, Cross River State. His Secondary Education was from Maryknoll College, Ogoja, and Federal Government College, Enugu.
He obtained a B.A. in International Relations (major) and Economics (minor) at the University of Maryland, College Park, United States of America (1982) and an LLB degree in Law from the University of Buckingham, England (1985). Following his Postgraduate Studies for an LLM degree in law at the American University in Washington D.C., he proceeded to the Nigerian Law School, Lagos, and was called to the Nigerian Bar, in 1988.
While engaged in the private practice of law in Washington D.C. and Lagos at different periods in the 1980s and early 1990s, he pursued business interests in oil and gas, construction, communication and merchandising. Thrust into national prominence at age 30, when elected Senator of the Federal Republic of Nigeria in 1992; he became the youngest legislator in the history of our country's Senate.
Sen. Imoke was appointed Special Adviser to the President on Public Utilities in 1999 and also served as chairman of a board specially tasked with the responsibility of completing all outstanding projects and winding down the operations of the now-defunct Oil Minerals Producing Areas Commission (OMPADEC), leading to the eventual setting up of the Niger-Delta Development Commission (NDDC). During his tenure as Special Adviser to the President on Public Utilities, he was appointed Chairman Technical Board of the erstwhile National Electric Power Authority (NEPA). In this position, he achieved several firsts including the initial restructuring of and lifting of protectionist policies and regulations in the power sector, through the decentralization of convoluted operational processes and the unbundling of the utility into 18 independent business units.
He was appointed Nigeria's Minister of Power and Steel in July 2003, and doubled as Minister of Education for a brief period in 2005. As Minister of Power, he worked tirelessly to ensure the enactment of the Electric Power Sector Reform Act of 2005, from which the establishment of the National Electric Regulatory Commission (NERC), the Rural Electrification Agency (REA) and the unbundling of the National Electric Power Authority (NEPA) were derived. The National Integrated Power Project (NIPP) was conceptualized and its implementation commenced under his leadership, culminating in the recent successful privatization of the distribution and generation entities; Senator Imoke left a strong and remarkable legacy of overarching reforms.
Sen. Liyel was Elected Governor of Cross River State in April 2007. As Governor, he initiated and institutionalized several key reforms in governance, introducing policy and regulatory reforms and legislation, particularly in the areas of public financial management, fiscal responsibility, public procurement processes, education, local government administration, transparency and accountability in the use of public funds as well as health care and social welfare, where he is one of the leading advocates for social justice and equality for our youth.
Institutionally, his government pushed for a statute establishing the State Ministry of Social Welfare, which acted as a catalyst for youth-focused social protection policies for the less privileged in our society; a first of its kind in the State. The ministry then initiated far-reaching programmes including project Hope & Comfort, which had a "conditional cash" transfer component that focused on incentivizing, through a monthly stipend, retraining for workplace skills and reintegrating into society, "unemployed or unemployable youth." This programme was part of an overarching policy in the healthcare sector initiated by Senator Imoke's government to improve the standard of living and quality of life for our people though by first providing free healthcare for pregnant women and children up to the age of 5; because of the high infant mortality rate he inherited as Governor.
Sen. Imoke within the same context and in the area of Information and Communications Technology (ICT), his policies enabled several programmes to identify outstanding young talents from the Cross River State University of Technology (CRUTECH), for example, to participate in a mandatory 1 year work/study peer-review based program; where participants were moved around several Ministries, Departments, Units and Millennium Development Authority's (MDAs) as support staff to strengthen and build capacity while sharing knowledge. Other initiatives include the establishment of an Information Technology Developer's Entrepreneurial Accelerator Incubation Centre that attracted ICT enthusiasts from many secondary and tertiary institutions in the State, at the Tinapa Business Park, in collaboration with other stakeholders.
He was nationally recognized by several bodies including the Institute of Software Practitioners of Nigeria's (ISPON) and the Federal Government for his contribution to ICT development in Nigeria, with reference often being made to his sponsorship of the National Software Competition for University students, "the Hackerton," which involved over 20 Universities, where the best software was decided upon, based on set criteria and the winners duly rewarded.
Arguably, Sen. Imoke's greatest contribution to the development of youth in Nigeria was in the area of sports development in Cross River State, where a holistic approach saw unmatched investment and reward in sports science, talent development and infrastructure development by way of policy. Between 2010 and 2015, Calabar became a "mecca" for sports in Nigeria with the national athletic and U17 and senior national soccer teams, qualifying from and winning international laurels from their Calabar base. Notably, Cross River state in this period produced several outstanding young athletes owing to programmes initiated by Senator Imoke and managed by the athletic legend Dr. Bruce Ejirigo, who firmly established Cross River as a state of champions during recent National Sports Festivals.
Sen Imoke's holistic approach to development encompassed a corresponding rural infrastructure development component, implemented through specific intervention agencies, ensuring improvement in human development indices as well economic growth. Invariably, under his administration, the major development partners acknowledged Cross River State as a model of good governance as well as the cleanest, greenest, most peaceful and secure in the country.
He is a member of the Nigerian Bar Association (NBA) and an Honorary Fellow of the Nigeria Society of Engineers and the Institute of Public Administration, he has received numerous awards honouring his commitment to the development of tourism, information & communication technology, sports, the arts and culture in Nigeria; he has also been awarded Honoris Causa Doctorate degrees, by Imo State University, Novena University, Delta state and the University of Calabar.
Additionally, his tireless and selfless contribution towards reforming and developing the social and political economy of Nigeria was recognized with a National Honor, Commander of the Order of the Niger (CON), in 2011/2012, in addition to several other awards including the 2013/14 Zik Prize in Leadership for Good Governance, the Institute of Software Practitioners of Nigeria (ISPON) Award of Excellence for his contribution to developing Information and Communication Technology (ICT) and a United Nations Children's Fund (UNICEF) award in recognition of the state's fruitful partnership in promoting the rights of children and women.
In 2011 he established The Bridge Leadership Foundation, a not-for-profit organization (NGO), which seeks to address gaps in the provision of good leadership models for our youth population, as well as being a platform designed to inspire, motivate, mentor and empower them; the Foundation has developed and delivered much successful community youth-based mentoring and capacity development programmes with acknowledged impact on the lives of over 62,000 of its beneficiaries, mentees and trainers.