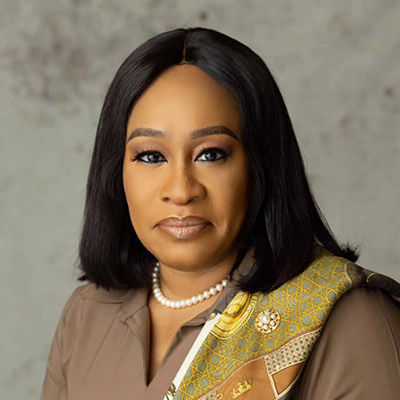 Ini Abimbola
EPLFAdmin
UN Technical Expert, Women Political Leadership/Federal House of Representatives
Ini Abimbola is an accomplished business leader with over 22 years of experience working in various capacities within the management consulting/international development space with extensive expertise in strategy formulation & evaluation, projects & innovations management, sustainability, sustainability reporting, capacity building on corporate sustainability, CSR, ESG performance, sustainable corporate governance, people and change management, strategic policy formulation, and development communications.
Ini is currently the UN Technical Expert, Women Political Leadership with the Federal House of Representatives, Abuja. She is also the Founder and former Lead Consultant/CEO of ThistlePraxis Consulting Limited (TPC), a management consulting, sustainability, strategy, and business advisory firm she founded in 2010.
A 2008 Draper Hills Fellow on Democracy, Development & Rule of Law at Stanford University California, and an alumnus of the Harvard Business School Executive Education Program, Ini holds a Bachelor and a Master's in Business Administration from Nexford University, a Bachelor in English Language & Literary Studies, and a Postgraduate Diploma in Management from the University of Calabar. She is currently a PhD researcher at the University of Uyo.
She is a Lecturer/Member of Faculty, MBA Program on International Corporate Social Responsibility Management at the Ferdinand Porsche FernFH – University of Applied Sciences, Austria; a Visiting Faculty at the Nigerian University of Technology & Management (NUTM) and serves as Country & Regional Lead (Sub Saharan Africa) for The CSR Company, a global CSR Network of organisations spanning four continents – Southeast Asia, Europe, the Middle East & Africa.
Ini is also the Vice President/Founding Member, Association of Sustainability Professionals of Nigeria (ASPN); Convener, Africa CEO Roundtable & Conference on Corporate Sustainability & Responsibility (AR-CSR™); Member, Akwa Ibom State Education Think Tank; Member, and the Africa Council – World Economic Forum (WEF).
She guides boards, executives, governance, risk, and sustainability practitioners toward social, environmental, and economic innovations that create shareholder and business value. She is a specialist in corporate governance, sustainability leadership, and transformational business practices and relationships. She has facilitated high-level board retreats and trained C-suite executives within the private and public sectors.
Before setting up ThistlePraxis Consulting, Ini served as Executive Director of Women in Management & Business (WIMBIZ) as Executive Secretary. She revitalised the organisation and moved membership from about 100 to over 300 members. Ini also created the mentoring program, the corporate governance program for SMEs and ensured the organisation joined global platforms such as the Vital Voices and the African Women Business Network, receiving over $200,000 in grants to enhance its operations in Nigeria.
Ini also served as the pioneer Executive Director, Defence for Children International – Nigeria Section; as a Consultant with the Women, Gender and Development Directorate of the African Union, Addis Ababa, Ethiopia, as well as the African Centre for Gender & Development within the UN Economic Commission, in Addis Ababa, Ethiopia.
Ini is a published author of 3 books and over 25 publications (chapters, articles) and has delivered more than 120 presentations in over 15 countries in the last ten years on a range of topics, some of which include: Corporate Governance, Change Management, Enterprise Development, Sustainability & CSR.
A member of the Council for the Development of Social Science Research in Africa (CODESRIA) and the Institute of Directors (IOD), Ini sits on various organisations' boards/advisory councils.