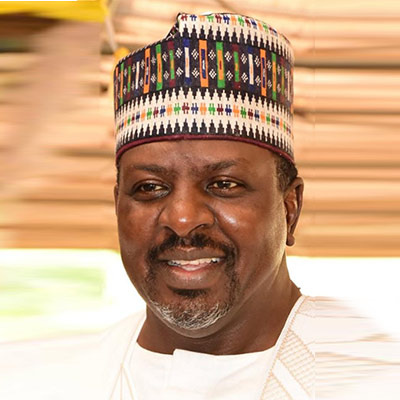 Sen. Mohammed Sanusi Daggash
EPLFAdmin
Former Minister of Works and Housing
Senator Mohammed Sanusi Daggash is a professional Chartered Architect, Businessman, Industrialist, Farmer, and Politician. He was educated in Nigeria and UK and the United States. He holds three Masters' Degrees in Architecture, Development Economics, and Public Administration from the prestigious Ahmed Bello University, University College London, and the University of Maiduguri. Sen. Daggash is a Fellow of the Nigerian Institute of Architectures (FNIA) and member of the Nigerian Institute of Management (ANIM) and a member of the Institute of Management Consultants.
Senator Daggash has had a varied and wide experience of service in both private and public services. Key areas of endeavour have been Architecture and Consultancy Services. In the mid-1990s, Sen. Daggash ventured into partisan politics and participated in elections directly four times in 1998, 1999, 2005, and 2007. In 1998 and 1999, he represented Marte, Monguno, and Nganzai Federal Constituency in the House of Representatives, and National Assembly. In 2003, moved up to the Senate, representing Borno North Senatorial District.
In 2007, President Umar Musa Yar'Adua appointed him Honorable Minister for National Planning Commission/ Deputy Chairman National Planning Commission. In 2010 President Goodluck Ebele Jonathan appointed him Honorable for Works (2010 -2011). While in public service Senator Daggash has served in key offices with the responsibility attached to the office of the National Planning Minister including Vice-Chairman of the Economic Management Team (EMT 2007 – 2008). The Senator is widely traveled and has attended several courses in the UK, USA, South Africa, Gabon, Ghana, and Nigeria.
Presently, Senator Daggash is the Chairman of Shuwari Industries Limited, Shuwari Farms Ltd, a Director, Mass Consult Nigeria Ltd, a Director, Matrix Chad Ltd, Director of Effective Capital Ltd. The Senator is a member of the Board of Governors – Commonwealth Human Ecology Council, UK.
Senator Daggash is a holder of three traditional titles – Ebube Agu 1 of Adazi Ani, Anambra, Eziwanne 1 of Udogadi Okporo, Imo State, Ochendo – Obosi Anambra State.
The Senator is married with 5 children and is a Golfer Squash player and avid sports enthusiast.