EPLFAdmin
I remember my excitement when I was selected to be among the first cohort for the Emerging Political Leaders Fellowship…
Well, let me brief you on how the fellowship, only a few months in, has impacted my political journey and amplified my involvement with community organizing.
For some weeks now, I have been part of a campaign to educate the original inhabitants of the Federal Capital Territory on things like environment, healthcare, agriculture, political participation and how to measure service delivery by elected government officials. The campaign was hosted by an organization known as AOIYEO in partnership with Resource Centre for Human Rights and Civic Education (CHRICED) with the support of the MacArthur Foundation.
Thanks to the Emerging Political Leaders Fellowship, I have learned the true qualities of leadership. I have learned the power dynamics of leadership and how to: create my value and identity as a young leader, build strategic alliances and lead with empathy. The classes have been thorough and the facilitators awesome-inspiring. Before EPLF, I have always been involved in community organizing as an advocate for the rights of my people and contributing to the development of our people.
EPLF inspired me to institutionalize all that I have been doing for and with our communities. It is also what moved me to get more involved with other indigenous organizations as well. There is an initiative that we will be launching in the coming months, you'll see.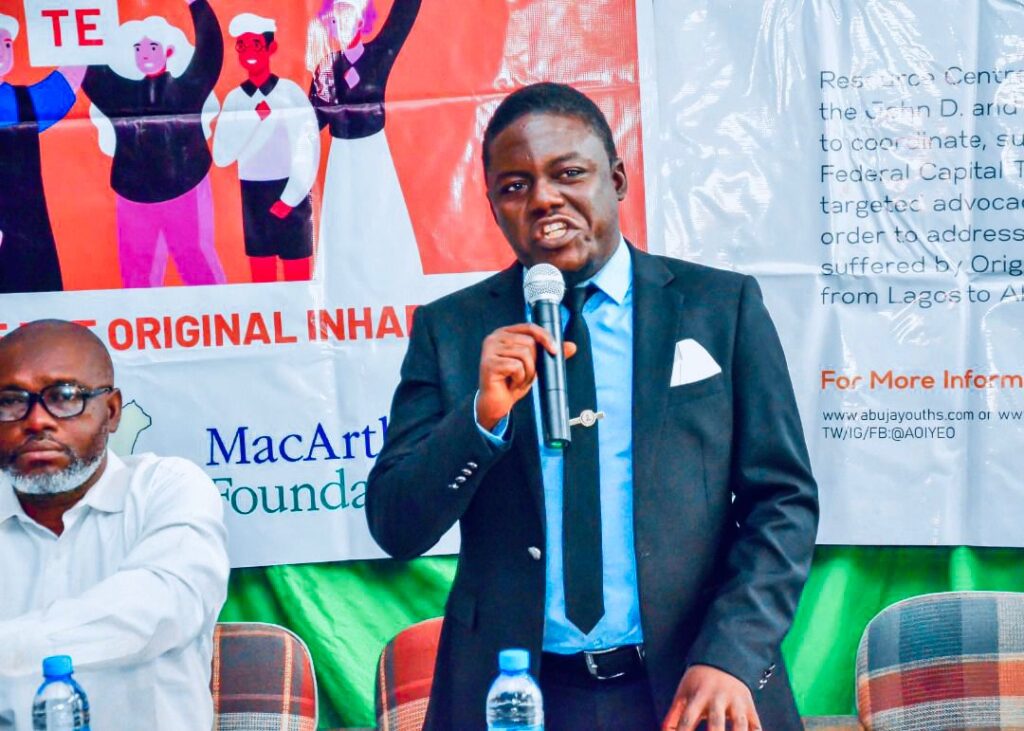 In one of my outings, I spoke to young people and women from Gwagwalada and Kuje Area Councils on "The Politics of Revitalizing Indigenous Economy". We the indigenous people of the FCT were predominantly farmers before the seat of power was moved from Lagos to Abuja. My focus, therefore, was on how we could return to the economic model that made millionaires out of our grandparents – only doing everything they did in a modern way. For instance, I said, the 2022 budget has 291 billion naira allocated to the agricultural sector so we should push our representatives to negotiate ways for our communities to get a piece of that budget either as loans or grants. Doing this, I insist, would be better than sharing wrappers, grinding machines and motorcycles to women and youths in the name of empowerment. It is my fervent belief that grinding machines and okada have never and will never take anyone out of poverty. I was also interested in knowing what steps the communities have taken to help themselves, as most of our representatives have been performing below expectations.
In summary, I suggested ways that the youths and women could form trade clusters and access funding to own common facilities. I finally encouraged them to approach their elected officials with fresh ideas and be gladly available to execute those ideas if called upon. Other guests spoke about other things.
In another outing, I spoke to the youths and women of Kwali and Abaji Area Councils on "Youths and Women Intervention in Politics".
In all my interactions, I encouraged everyone to vote and hold their representatives accountable from the Senator down to their councillors. I equally encouraged them to do more work in their communities. Then I shared some key lessons that I learned from the EPLF. I was a proud advocate, even prouder to tell the gathering that I am President of the 2022 cohort.
The ultimate plan is to develop a charter of demands which we've encouraged all the area councils to use and negotiate with politicians seeking to be (re)elected into office. I am excited about institutionalizing the work that I've been doing in my community.
Cheers,
Tukura John Daniel
President, EPLF 2022 Cohort